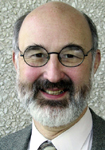 ev. Bruce Otto has earned a Master of Divinity and Doctor of Ministry degrees, and was ordained in 1973. He served for 23 years as a pastor of LaSalle Street Church, a nondenominational church in downtown Chicago. Prior to coming to Chicago, he pastored churches in New York City, Minneapolis and Vancouver, British Columbia.

Over the years he has performed literally hundreds of weddings and each one has been unique. He loves performing weddings and takes great joy in getting to know the bride and groom and customizing the ceremony to their traditions, wishes and expectations.

Bruce is not a full-time Officiant and conducts a limited number of weddings each year. This allows him to be fully present with each and every bride and groom during the planning process, the rehearsal and especially on the wedding day.
A wedding officiant for those who wish to be married in the true spirit of love